Di bernameya NKLyê da, rewşa bakurê Kurdistanê û Tirkîyayê hat nîqaşkirin
By Navenda Kurdî ya Lêkolînan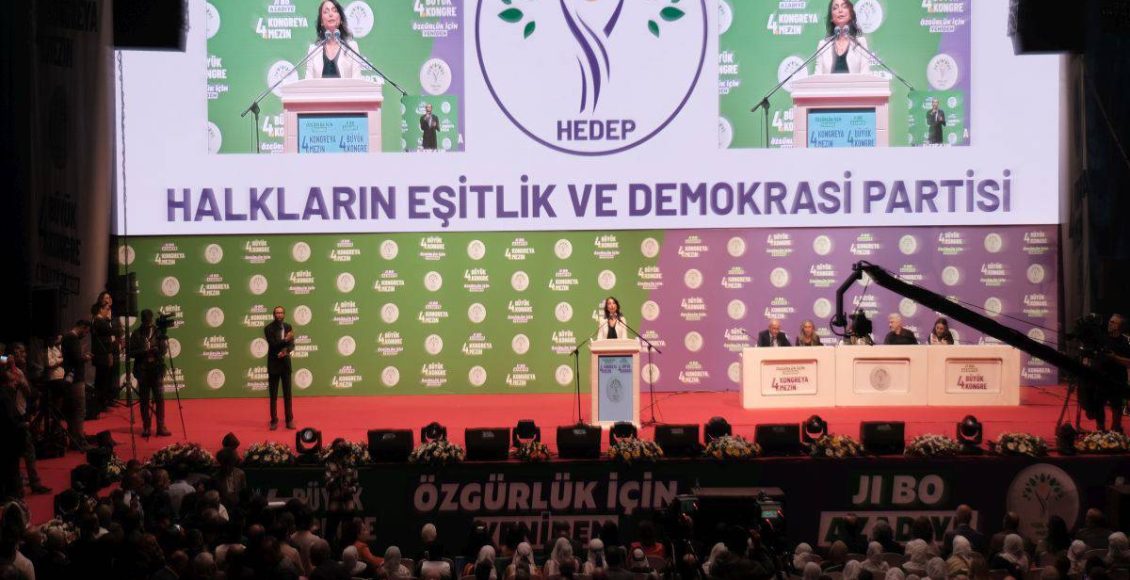 Duh (19/11/2023) servîsa kurdî ya Navenda Kurdî ya Lêkolînan bernameyek bi rojnamevanê kurd Faruk Sakik ra li bara rewşa bakurê Kurdistanê û Tirkîyayê çêkir.
Di bernameyê da ku ji alîyê endamê navendê Tariq Hemo ve hate birêvebirin, mijarên wekî meşa gelêrî ya ber bi Gemlikê ya ji bo azadîya Rêberê Kurd Ebdulah Ocalan û damezrandina Partîya Wekhevî û Demokrasîya Gelan (HEDEP) û rola wê ya berevanîya nasname û çanda kurdî û nûnertîya gelê kurd li bakurê Kurdistanê û sîyaseta şerxwaz a hikûmeta AKP/MHPyê û hilbijartinên li bakurê Kurdistanê û Tirkîyayê, hatin nirxandin.
Faruk Sakik got ku li Tirkîyayê li hemberî kurdan ev sedsalek e,  ango ji Lozanê da qirkirina kurdan dane pêşîya xwe, lê rêber Apo (Ebdulah Ocalan) û tevgerek derketin û ev qirkirin dane rawestandin. Lê dewleta Tirkîyayê israr dike ku vê qirkirinê bike, wan digot îsal wê encamekê bigirin û li Kurdistanê gelek komkujîyan pêk bînîn û digotin ew ê xeyalên xwe yên Mîsaqa Milîyê pêk bînin, lê nikarîbûn pêk bînin û wiha berdewam kir: "Ji ber ku nikarîbûn xeyalên xwe pêk  bînin, li beramberî vê yekê tecrîd giran kirin. Her wiha, meşa ber bi Gemlikê ve ji ber ku Gemlik xwedî sembol e, ji ber ku li hemberî girava Îmralîyê ye û ji wir têkilî bi Îmralîyê ra çêdibe. Lewra kurdan jî gotin li beramberî girankirina tecrîdê, wan jî kampanîyek di 10ê cotmehê da dest pê kir, ku li ser asta cîhanê /164/ navend tev li wê bûne. Meşa Gemlikê jî parçeyek ji vê kampanîyayê ye."
Faruk Sakik  da zanîn ku meşa ber bi Gemilkê ve wekî helwesteka ku ew li hemberî tercîdê ne bêdeng in û wiha dewam kir: "Dewleta Tirkîyayê ji ber vê yekê ji meş û dengê kurdan ditirise."
Sakik di berdewamîya axaftina xwe da, bal kişand ser girîngîya damezrandina HEDEPyê û got: "HEDEP dîrokek wê heye ji sala 1980yî dest pê kir. Heta niha /10/ partî hatine girtin û HEDEP ya 11an e di vê dîrokê da.  HDP di hilbijartinên 7ê hezîrana 2015an da serkeftineka mezin bi dest xist û dewleta Tirkîyayê ji wê rojê da êrîş dest pê kir. Lewra, damezrandina HEDEPyê wekî bersiva vê bêdengîyê ye. Lê divê em xwe ji bîr nekin ku îro li Kurdistanê li ber her maleka kurdan qereqolek hatîye avakirin, dixwazin ku kurd gavê bi paş da bavêjin, lê kurd gavê bi paş da navêjin."
Sakik  dîyar kir ku di meşên ber bi Gemilkê ve, hemû meş bi pêşangtîya parlamenterên HEDEPyê dest pê dikir, lê polîsan ew parlmanter digirtin, lê HEDEPyê bi cesareteka mezin bersiv didan û wiha berdewam kir: "Civak jî êdî bi cesaret e, me di kongreya dawî ya HDPyê da ku navê xwe kir HEDEP, tevlîbûneka çawa heye. Ev yek dida dîyarkirin ku HEDEPyê di çareserkirina doza kurdistanî da, mîsyonek mezin girtîye ser xwe."
Sakik  bal kişand ser rola HEDEPyê ya parastina nasname û çanda kurdî û got: "Di pêvajoya hevdîtinên bi Rêber Apo ra, bihna azadîyê ji Kurdistanê dihat, ango di warê ziman, çand, huner, nasname, sîyaset, guhartina navan û qadan da hwd, bihna azadîyê dihat. Her wiha, sazî jî di wê pêvajoyê da ji bo ziman, hatin avakirin û sê dibistan hatin vekirin. Bi rastî jî ji bo zimanê kurdî jî xebateka baş dihat meşandin. Lê rast e, hin rexne hene wekî çima parlameter bi kurdî naaxivin, di civîna da kurdî nayê bikaranîn, lê divê şerûmercên wê di ber çavan ra were derbaskirin. Dîsa dibêjin eger ku îro ev faşîzim û hovîtî tune bûye, wê di warê ziman da gelek bipêşketin çêbûbûye, ji ber ku ez bi xwe jî bûm şahidê wan xebatên li bakurê Kurdistanê."
Rojnamevan Faruk Sakik  behsa hilbijartinên şaredarîyan li bakurê Kurdistanê û Tirkîyayê kir û got: "Hevserokê HEDEPyê Tûncer Bakirhan daxuyanîyek da û got ji îro û pê ve eger bi hin kesan ra lihevkirin pêk bînin, ev lihevkirin wê bê gel çênebe, wê vekirî be û ne veşartî be. Ji ber vê yekê, di Kurdistanê da divê sedî sed serkeftineka  mezin çêbibe û roj bi roj rêjeya HEDEPyê zêde dibe. Îro nîqaş li ser sê mijaran hene; a yekê çûyîna hilbijartinan, a duyem stratejîya hilbijartinan wê çawa be û ya sêyem jî bêbandora sîyaseta qeyûman wê çawa be. Mirov nikare ji niha da texmîn bike wê encam çawa bê. Derfetek heye niha partîyên MHP, CHP û hwd li bajarên Kurdistanê bi hev dikevin li ser hilbijartinan, di vir da derfet li pêş HEDEPyê heye, ji ber ku HEDEP lihevkirina kurdan çêkirîye. Her wiha HEDEPyê bi çepgiran jî li Kurdistanê lihevkirin çêkirine. Van bi hev ra li dij wê sîstemê, lihevkirina demokrasîyê çêkirine. Ez bawer im ku di hilbijartinan da, dê ew lihevkirina demokrasîyê bi ser bikeve, lê tiştê herî balkêş di hilbijartin da ji bo me çi ye ku dunya û cîhan kurdan nas dike û ew bêdengîya ku em behsê dikin, di hilbijartinan da tê şikandin.¬"
Her wiha, Sakik  bi bîr xist ku di hilbijartinan da êdî wê bê lihevkirin HEDEP hevkarîyê bi kesî ra neke, Tûncer Bakirhan jî ji xwe behsa vê yekê kir, ku wê li ser çi li hev bikin, wê ev lihevkirin were eşkerekirin, bi gotineka din êdî HEDEP bê şert û lihevkirinan bi kesî ra, nakeve hilbijartinan.
Sakik destnîşan kir ku rewşa CHPyê tevlihev e û eger ku bi kurdan ra lihevkirinekê çênekin, dibe ku di hilbijartinan da bi ser nekevin.
Rojnamevan Faruk Sakik  di dawîyê da bal kişand ser pirtûka xwe ya bi navê "Fayîl Mechul" û got: "Dema min ew pirtûk nivîsand armanceka min hebû, ku bi salan min bi navê "Arşîv" dokmenter çêkirin, ji salên 1949an heta dema ragihandina Rêveberîya Xweser sala 2015an li Bakurê Kurdistanê. Li Kurdistanê kengî serîhildan çêbûye, bi komkujîyên mezin ji holê rabûne. Bi serîhildana PKKyê ra komkujî careka din  bi zindana Amedê dest pê kir. Em şahidên wan rojan in, davêtin ser gundan û zulmeka mezin li kurdan dikirin, lê PKKyê pêşî li vê yekê girt û bû wekî sîwanekê. Dewleta tirk dît ku nikare di warê leşkerî da li hemberî gerîlayan tiştekî bi dest bixe, êdî komkujî pêk anîn û gelek kes qetil kirin ji salên 90î heta Roboskîyê û heta rojavayê Kurdistanê dewam kir.  Lê kurd îro xwedî nasname ne û gerîla hene ji bo parastina van destkeftîyan."