Jîna Aminî's Anniversary: Kurds Remain Under Threat
By Gordyaen Benyamin
Following the murder of Jîna Aminî on September 16, 2022, by the Iranian 'Morality Police' in Tehran, widespread demonstrations were held against the Islamic Republic of Iran's (IRI) misogynistic and anti-woman policies throughout Eastern Kurdistan (Rojhilat) in northwest Iran, and around the world. These demonstrations later grew into a broad call for minority rights and regime change in Iran.
After Jîna (whose name means 'life' in Kurdish) was laid to rest at the Aichi Cemetery in her hometown of Seqiz (Saqqez) in Rojhilat, thousands of people attended and chanted "Jin, Jiyan, Azadi," (Women, Life, Freedom). This Kurdish phrase, which has been around for decades within the Kurdistan freedom movement, later became the primary slogan of the women's revolution throughout Iran and all over the world.
The Iranian state's security institutions, particularly the Islamic Revolutionary Guard Corps (IRGC), began repressing the protestors as well as militarizing the cities, towns, and villages as soon as the demonstrations spread to other cities throughout occupied Eastern Kurdistan and occupied Western Balochistan within Iran. Activists and public figures who supported the protestors and took part in the demonstrations were simultaneously targeted.
Approximately 540 civilians, 137 of whom were Kurds, were killed by Iranian security and intelligence forces during the protests' systematic and harsh repression. Although there is no precise data on the number of injured protesters across Iran, Kurdish human rights organizations estimate that there have been more than 8,000 injured protesters in Eastern Kurdistan. Additionally, it is estimated that between 20 and 60 thousand citizens have been detained, of whom nearly 9,000 are Kurds, and the numbers are increasing as Jîna Aminî's one year anniversary approaches.
And although the protests began to decline from the intense state oppression against them since April of 2023, the Iranian regime's unrelenting assault on Kurdish activists, militarizing of Rojhilat, and destruction of it's environment has not slowed down. But perhaps the most inhuman tactic by the Mullahs in Iran, is the targeting of family members, related to those who defy their dictatorial rule as an ongoing act of terrorism and deterrence.
Threats Against Families
One of the most sinister ways that the IRI puts fear in the minds of would-be defiant people is through targeting their family. As such, the Iranian state's security institutions have stepped up their pressure and threats against the families of the Jin, Jiyan, Azadi martyrs in Eastern Kurdistan, Balochistan, and other minority regions of Iran as the anniversary of Jîna Aminî draws near.
Over 70 family members of the victims—31 of whom were Kurds—have received summonses, arrest warrants, threats, prison sentences, and floggings over the past five months. More inexplicably, they were compelled to sign commitment documents promising not to observe their children's birthdays or take part in the commemoration of Jîna Aminî's murder on September 16th 2023. In addition, Iranian secret police have detained and threatened 31 women and 9 children, who were family members of imprisoned activists or murdered martyrs during this time.
For instance, on Komar Daroftadeh's birthday, Iranian regime forces detained all the family members of the 16-year-old Kurdish teenager from Piranshar (Xanê) who was killed during the protests on October 30, 2022. They then confiscated all of their belongings and humiliated Komar's family by making them remove all of their clothes.
Komar's parents Hassan Daroftadeh and Hajar Barzanji, as well as Komar's siblings Mardin, Zhakaf, Medya, and Afsana, were detained by Iranian forces on August 16, 2023. Due to the shock posed by Iranian forces brandishing guns, his already traumatized mother Hajar experienced a panic attack and had to be taken to the hospital. Komar's siblings (all minors) were also taken into custody.
The harassment occurred when Komar Daroftadeh's family members were on their way to the village of Zewikeh to celebrate their murdered teenage son's birthday at his gravesite. This was when Iranian regime forces detained them at the Piranshahr entrance checkpoint. After having their phones seized along with items to celebrate his birthday, Komar's family then had their Kurdish clothing removed and confiscated as well, a symbolic act meant to bring shame and attack their Kurdish identity.
Komar's father Hasan, was later contacted by IRGC intelligence on August 12, and instructed to forgo holding any further celebrations in honor of his deceased son's birthday. Showing that the regime in Tehran wants to not only rob parents of their children's lives, but then control how they grieve the loss as well – a cruel obsession focused on psychological controlling any defiant 'subjects' who defy their dictates. To his credit, Komar's father had already made it clear on the day of the original funeral that he held pride in his son's sacrifice for "freedom" and the "homeland."
In another instance, on August 19, 2023, Iranian intelligence forces detained Burhan Karami's cousins Hissam and Sirvan from the village of Chersaneh in Kamyaran, Eastern Kurdistan. They were later tortured and beaten, before having their mobile phones and social media accounts seized. Which displays how the Iranian regime wants to attack both the minds and bodies of people who dare to resist their tyrannical rule. In this case, their so-called "crime" was being related to their cousin who the regime had previously assassinated. In that case, on November 16, 2022, Burhan Karmi, a 30-year-old Kurd from Kamyaran, was murdered by Iranian forces who shot him three times in the head and neck on Zarneh Street.
In another instance, Mashallah Karami, the father of Mohammad Mahdi Karami, known as Komar in Kurdish, a young Kurd from Bijar, Eastern Kurdistan, who was detained during protests in Karaj and later executed on January 7, 2023, was also detained during a raid by Iranian regime forces on his home in August of 2023, and taken to an undisclosed location. Additionally, they took Mr. Karami's personal items and vandalized the plaques and medals that his son had won as  karate champion throughout his professional career. This act displays the sadistic cruelty of the Iranian regime, where they will not only murder a person, but then not even allow the family to hold onto any mementos to remember them. As even in death, the regime insists on vandalizing the living memory of their victims who they have unjustly executed.
Threatening families is one of the Iranian regime's main strategies in response to both their recent calls for the community to resume demonstrations on the anniversary of Jîna Aminî's murder. But in addition to such harassment, reports of arrests of Kurdish citizens have significantly increased as well. For instance, in August 2023, at least 264 activists were detained in Iran, up 17% from July 2023's 225 cases. Of these, 116 (44%) were Kurds, and 52 were from other non-Persian ethnic groups.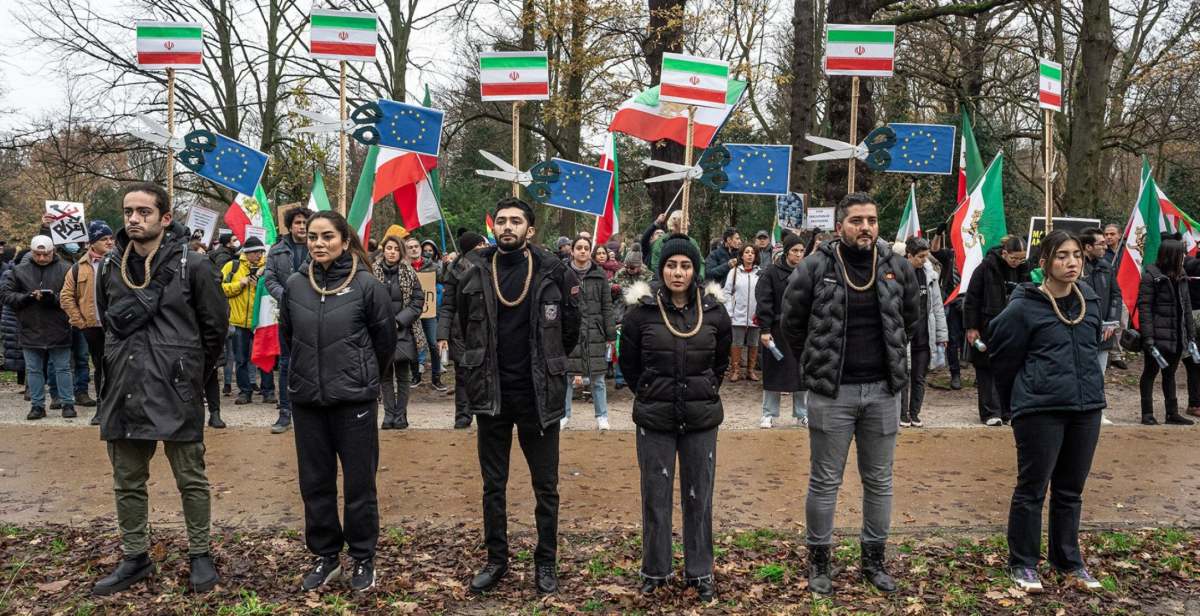 Threats Against Kurdish Activists Abroad
As the threats against families continue in Rojhilat and Iran, the Iranian regime is pursuing the same policy against exiled and known Kurdish activists abroad.
In one example, at least 20 political asylum seekers were transferred from the Turkish city of Edirne to an undisclosed location on August 25, 2023, at the direction of Turkish authorities. Amir Kahrizi, a Kurdish political asylum seeker from Kirmaşan in Eastern Kurdistan, whose risk of deportation to Iran had previously been reported, was one of these refugees.
In a brief phone call, Kahrizi mentioned that Turkish police notified him about his relocation, but expressed uncertainty regarding their next destination. On social media, unconfirmed rumor's about their potential transfer to the Northern Kurdistan city of Agirî have surfaced.
Recently, Raman Nasirizadeh, a Kurdish refugee and social media personality who was born in the Kurdish city of Merîwan in Eastern Kurdistan and who applied for asylum in Denmark five years ago, is facing deportation to Iran after the Iranian embassy sued him for taking part in a protest against the Khuzestan water shortage in July 2021 outside the Iranian embassy in Copenhagen. Raman has been absurdly charged with "vandalism" by the Copenhagen Public Prosecutor's Office, for acts which allegedly occurred in front of the Iranian embassy.
This Kurdish asylum seeker Raman then received notice that "the prosecutor reserves the right to request deportation" in December 2022. The proposed penalties also include jail time and a fine, demonstrating the seriousness with which the Danish judicial system is treating this case, while collaborating with a regime that is hanging its protesting citizens on a weekly basis. Moreover, over the past two years, Raman's family has consistently been contacted by Merîwan-based Iranian government institutions, regarding their son's social media usage, to which they have received cautionary messages and even threats.
Raman Nasirizadeh is due to appear in court in Copenhagen on June 27, 2024, for the charges against him, according to the most recent notification from the Copenhagen Prosecutor's Office. The possibility of his deportation to Iran raises serious concerns because it would put his life in danger due to the seriousness of the charges and indictment made against him and the influence of the Iranian state.
In accordance with international asylum law and the European Convention on Human Rights, any expulsion or deportation of refugees, particularly those with political refugee status, must align with established human rights standards. The European Court of Human Rights asserts that signatory states to the Human Rights Convention must comprehensively recognize all potential risks associated with expulsion and deportation, and if such action endanger the lives and safety of refugees, they must be swiftly halted. In the case of Iran, such a danger is self-explanatory, as the murderous regime in Iran formerly executes more prisoners than perhaps any state on earth.
Similar to the strategies used against Kurdish activist families in Rojhilat, the Iranian state increases its pressure and threats against any dissenting voices in the diaspora, as a way to reduce their influence inside their borders and to show off their power and long hands throughout Europe. But the West must not allow such intimidation to continue and must stand firmly behind the voices for democracy in Iran.
Illegitimacy & Criminality 
"To compensate, and in order to spread fear among people, the authorities have intensified executions for non-political charges. These are the low-cost victims of the Islamic republic's execution machine. In order to stop this machine, the international community and civil society inside and outside Iran must show the same reaction to each and every execution."

— Mahmood Amiry-Moghaddam, Director of Iran Human Rights (IHR)
When the regime in Iran executed the young Kurdish man Mohammad Mehdi Karami, for his part in protesting their murdering of the young Kurdish woman Jîna Aminî, the ridiculous crime they convicted Karami of before strangling the life out of him with a rope was "corruption on Earth" (Mofsed-e-filarz). But it is the Islamic Republic of Iran that is the epitome of corruption, as this criminal theocratic regime is built on ethnic oppression, religious persecution, misogyny against women, and the widespread theft of dreams, opportunity, and hope.
Hundreds of people have been barbarically hanged by Tehran's Mullahs for having the audacity to express that they desired basic human rights. Their calls were for "Women, Life, and Freedom", and what they received in return from Tehran was "Cruelty, Murder, and Pain", which not only physically strangled the life out of their loved ones, but metaphorically is strangling any last remaining drop of liberty out of occupied Eastern Kurdistan and Iran. The only question now is what those watching from afar will do? After all, are an organized group of terrorizing assassins who poison school girls, shoot children, and hang teenagers a legitimate state just because they do so under a UN-recognized flag?