Abducted in Rojhilat: Iran's Kidnapping of Werîşe Muradî
By Dr. Hawzhin Azeez
"To disappear people is to deny their existence, their rights, and their dignity. Forced disappearances are an assault on the essence of our humanity."

— Kofi Annan, former Secretary General of the UN
In the heart of Rojhilat, the Eastern Kurdistan region of Iran, the sudden disappearance of Werîşe Muradî, a passionate advocate for the rights of Kurdish women, has sent shockwaves through the global Kurdish community. This latest case of the enforced disappearance of yet another Kurdish activist serves as a chilling reminder of the ongoing struggles faced by Kurdish women and underscores Muradî's unwavering dedication to liberating the women in Iran following the tragic murder of Jîna Aminî.
In this article, you will come to know the name of Werîşe Muradî and several others like her. But these are not just random names and faceless women whose disappearances, inevitable torture, and possible executions should be seen as just another statistic in a long line of similar cases. These are women, human beings with aspirations, hopes, and desires. Women who dared to envision a better life for themselves and others like them. Women who could have chosen the comforting mantle of apathy, but decided to dismantle silence's suffocating rusty chains across their lives and voices. What courage does it take to speak up in light of such a violently oppressive and merciless regime whose religious extremism knows no conscience or humanity? To know that Muradî knew the immense risks to her life and yet still chose to remain active and to continue to speak highlights that such women are truly the best of us, the most courageous of us. And they deserve to be known, to have their name spoken, and for us to demand their liberation.
Forced Disappearances
Forced disappearances, an old favorite tactic of the Iranian regime and other authoritarian governments, are designed to not only suppress the voice of dissenting people but also are used as a powerful tactic of intimidation and fear. Forced disappearances send a chilling message to oppressed groups, silencing opposition voices while instilling fear in the heart of a community. It not only serves as a terrifying warning to anyone who would resist but also acts as a powerful mechanism to allow the political elite to retain their grip on power.
Soon after the incident, the Eastern Kurdistan Free Women's Association or KJAR (Komelgeha Jinên Azad a Rojhelatê Kurdistanê) made a grim statement regarding Werîşe Muradî (Ciwana Sine) who is considered one of its most influential members. According to KJAR's recent statement, Muradî, a Kurdish activist deeply involved in political organizing in Rojhilat, was abducted near Sine (Sanandaj) on August 1, 2023, by Iranian state forces.
To date, the fate of Muradî remains unknown, causing deep concern among her family and the organization. KJAR asserts that Werîşe Muradî was taken by agents of the Ministry of Intelligence (Itlaat) and the Guard Corps, putting the responsibility for her safety squarely on the Islamic Republic of Iran. Such forced disappearances are common and occur with frightening regularity.
Muradî's significance goes beyond her role as a Kurdish activist; she is also a staunch advocate for Kurdish women's rights in Iran, which is the primary reason she became a target for the regime. While on her way from Mariwan to Sine, Muradî, accompanied by an unidentified associate, was violently apprehended by Iranian intelligence forces. Eyewitnesses describe the use of excessive force, brutal beating, and her forcible abduction into an unmarked vehicle. Her current whereabouts remain a mystery, with no contact established with her worried family, and the chances of securing legal representation appearing dim, if not entirely absent.
Muradî's unwavering commitment to the cause of Kurdish women, especially in the wake of Jîna Aminî's murder by Iran's notorious morality police the previous year, has made her a symbol of women's resilience and determination in the face of the hardline Iranian regime. Her tireless efforts to amplify the voices of oppressed women resonate not only within the Kurdish community but also reach far beyond, touching the lives of women from various marginalized backgrounds, including Kurds, Baloch, Ahwazi Arabs, Azeris, and others who continue to endure second-class citizenship inside Iran. Women have always been the targets of severe repression and gender-based violence by the Iranian regime, so much so that through the 2022 mass uprisings the global community gained a brief insight into that grim reality. The renowned Iranian women's rights activist Shirin Ebadi in highlighting the crucial role of women in promoting social progress has astutely noted that:
"When a regime oppresses its women, it oppresses the entire society. Women are not just victims; they are the driving force behind change and progress."
Ebadi has also noted the intense oppression of the Kurds at the hands of the regime, by stating that the international community "must not remain silent in the face of the suffering of the Kurdish people in Iran. Their rights and dignity must be respected."
It is crucial to recognize that Werîşe Muradî's abduction was not an isolated incident, but rather a direct consequence of many women's unwavering dedication to advancing the cause of Kurdish women, especially in light of Jîna Aminî's death where thousands more women were arrested with many remaining in jail indefinitely.
According to human rights organizations various other methods such as arbitrary abductions, incommunicado detention, summary executions, and of course torture are tactics used by the regime against its opponents, with minorities such as Kurds, Baloch and Baha'i people being the most vulnerable to such tactics. For their part, forced disappearances can be the cause of deep pain and terror for a community:
"the aftermath of the disappearances, the shield of impunity protecting the perpetrators, the affront to the mourning of the relatives of the disappeared…reveal important insights about the state apparatus in Iran."
As a Woman and a Kurd
Governments often deliberately and far more brutally respond to female political activists who are seen to challenge traditional gender roles or societal norms. Consequently, such women face increased or gender-based violence as a means to suppress their influence and maintain patriarchal power structures. The impact of the death of Jîna Mahsa Aminî, a 22-year-old Kurdish woman from Saqqez, Iran, who empowered millions of Iranian women to flood the streets in protest and who became a symbol of the enduring oppression faced by women in the country, is a prime example here.
Initially ignited by Kurdish women, these protests quickly transcended ethnic and regional boundaries, uniting Iranians from diverse backgrounds under the Kurdish banner of "Jin, Jiyan, Azadî" (Woman, Life, Freedom). What started as a response to Jîna Aminî's tragedy and the broader oppression of women in Iran, transformed into nothing short of a full Women's Revolution. Women and girls, along with the rest of society, confronted brutal police crackdowns and demanded immediate reforms to the repressive regime's stance on socio-political, gender, cultural, and economic freedoms. Their demand was crystal clear: the overthrow of a regime that had for decades systematically denied them fundamental rights and freedoms.
While the rest of Iran appeared to stand in solidarity with the Kurds, recognizing the systemic discrimination and brutality they faced, tensions arose as segments of pan-Iranian and Persian society decried the existence of Kurds and other ethno-religious minorities. Kurdish activists like Muradî tirelessly worked to dismantle the ongoing barriers against minority rights.
Kurdish women have consistently been at the forefront of resistance against the regime in Tehran. The oppressive policies directed at Kurds and other minority groups in Iran have endured for decades. Kurdish language bans, forced assimilation, displacement, and mass executions have been defining features of the Kurdish experience in Iran. Yet, the international media has often turned a blind eye to their plight, leaving millions of Kurds without political recognition or external support.
Mullahs Cling to Power through Force
In addition to the disappearance of Muradî, other distressing developments continue to unfold in Iran. Iranian security forces have arrested four Baha'i female activists in Shiraz, further emphasizing the oppressive climate in the country. Roxana Vojdani, Bahareh Ghaderi, Sahar Mohebpour, and Setareh Ta'ami were transferred to undisclosed locations, raising concerns about their well-being and safety.
In another case, Sakinah Parvaneh, a former Kurdish political prisoner from Quchan, who was re-arrested six months ago, has received a daunting sentence of 7 years and 6 months in prison from the judicial system, highlighting the ongoing repression and legal repression against Kurdish activists.
The disappearance of Muradî thus reflects a broader pattern of human rights violations and political oppression in Iran. The protests sparked by the death of Jîna Aminî continue to reverberate, with no precise figures on the number of people arrested, but some sources suggest nearly 20,000 individuals have been detained. Security forces have reportedly killed approximately 500 civilians during the protests, with a significant number of casualties coming from Kurdish and Sunni regions in the southeast of Iran. The number of injured runs in the thousands. Amnesty International reported at the end of 2022 that:
"Enforced disappearances, torture and other ill-treatment, including through the deliberate denial of medical care, were widespread and systematic. Cruel and inhuman punishments, including flogging, amputation and blinding, were imposed and/or carried out. The use of the death penalty increased and public executions resumed. Trials remained systematically unfair."
The Iranian regime's attacks on Kurds specifically extend beyond the crackdown on protesters, as the Islamic Revolutionary Guard Corps (IRGC) has escalated its shelling of Iranian Kurdish parties in Başûr (Southern Kurdistan / north Iraq). In November, the IRGC launched several missile attacks against the positions of the dissident Iranian Kurdish group, the Democratic Party of Iranian Kurdistan, in Hewlêr (Erbil). These attacks resulted in casualties, damage to a hospital, and dozens injured, including children.
Additionally, arbitrary laws and systematic marginalization mark the discriminatory relationship between the regime and the Kurds. The Iranian state has labeled Kurdish armed groups in Kurdish provinces of Iran as "terrorist groups" or "anti-revolutionary", including the political party KJAR that Muradî was a member of. However, these groups stress that they aim to defend the rights of Kurds, who have long endured discrimination and repression.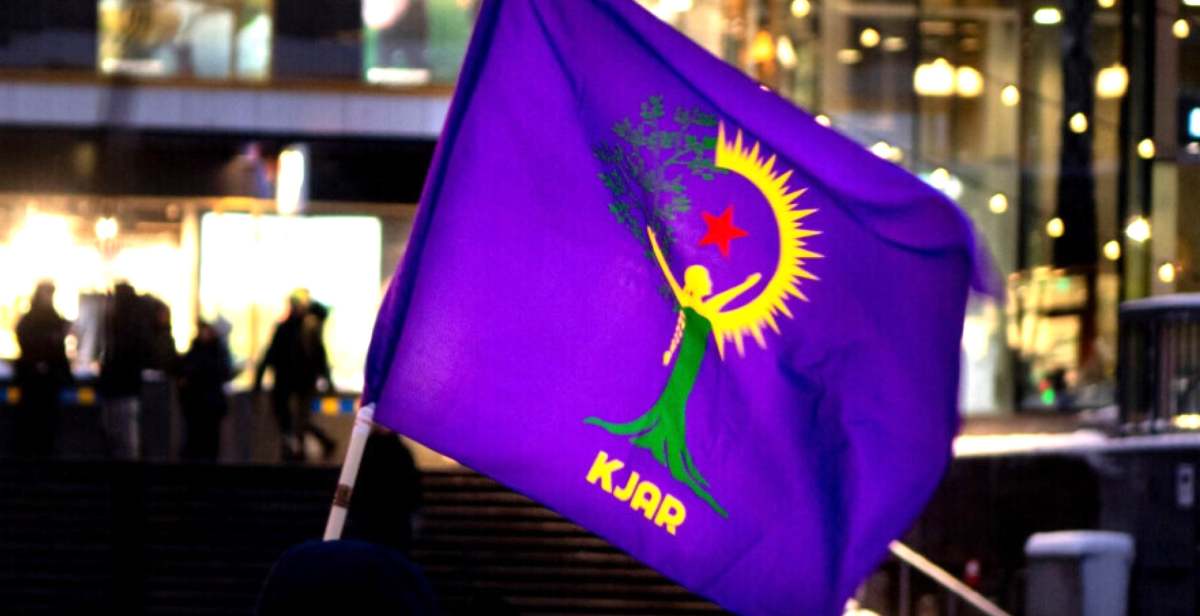 Kurdish people in Iran have suffered a long history of ethnic, cultural, and religious oppression, dating back to the reconfiguration of borders and countries after the fall of the Ottoman Empire. Assimilation efforts, forced displacements, and mass executions are embedded in the collective psyche of Kurds in Iran. According to a 2019 United Nations report, Kurds constitute nearly half of Iran's political prisoners, with a disproportionately high number of Kurds sentenced to death annually. Public executions in town squares still remain a feature of these gruesome acts of regime power and control.
Likewise, Kurdish language bans persist in schools and government institutions, and a permanent state of emergency prevails in Kurdish areas. Kurdish cities have been systematically deprived of resources and opportunities, resulting in mounting levels of unemployment, poverty, and illiteracy, forcing many Kurds to engage in dangerous work as 'kolbers,' carrying goods across the mountainous borders into Iraqi Kurdistan, a trade fraught with the risk of being shot by regime forces or freezing to death. Kolber's are seen as some of the most economically marginalized groups within collective Iranian society, but especially within the Kurdish communities.
Despite the clear and obvious nature of the oppression of the Kurds, Iranian Kurdistan remains one of the most underreported areas in the world when it comes to international media coverage. This can clearly be seen in the global silence around the arrest and disappearance of Muradî. The Kurdish resistance movement in Iran has persistently operated without receiving the proper acknowledgment it deserves from the global community, rendering the plight of approximately 12 million Kurds invisible and devoid of political recognition. Their lives, their disappearances, their executions and marginalization barely generate any interest.
"Women, Life, Freedom" is Under Threat
In light of increasingly disturbing developments in the Kurdish regions of Iran, the Kurdistan Human Rights Network (KHRN) and the Center for Human Rights in Iran (CHRI) collaborated on a comprehensive report titled 'Massacre in Javanrud.' This report highlighted a series of harrowing events that transpired during the crackdown on protests in Javanrow (Javanrud), located in western Kermanshah province. The report, spanning 100 pages and based on extensive evidence, includes photographs, videos, and interviews with 38 eyewitnesses, victims' families, and individuals who were detained or injured between early October and the end of December 2022.
The findings of the report reveal deeply disturbing accounts of torture, severe beatings, mass detentions, and threats of sexual harassment against numerous protesters, including minors. According to the report, security forces deliberately used military-grade weapons to shoot peaceful protesters in Javanrow, resulting in the deaths of eight unarmed civilians, including one child, and injuries to at least 80 protesters. The wounded individuals were subjected to further beatings and denied access to medical care without risking arrest. Approximately 90 people, including 26 minors, were arbitrarily apprehended and detained, with many enduring physical abuse and torture while in custody. Furthermore, the families of those who were injured, killed, detained, or mistreated found themselves under immense state pressure to remain silent. Now imagine this harrowing case multiplied by dozens across various other Kurdish-dominated provinces and cities and the scale of the oppression and government crackdown of the Kurds may be better represented.
The human rights groups categorically condemned these acts as "crimes against humanity," asserting that the heinous acts perpetrated by agents of the regime were committed with the full knowledge and direction of state authorities. These acts included "deliberate and systematic killing, maiming, and abuse of unarmed civilians on a large scale." In other words, total and utter disregard for human life.
The disappearance of Werîşe Muradî, a passionate advocate for Kurdish women's struggles, and the tragic death of Jîna Aminî are deeply intertwined, symbolizing the indomitable determination of Kurdish women in the face of severe government adversity. These events serve as stark reminders of the enduring struggles faced by Kurdish women in Iran, spotlighting not only the dire need for international attention but also the remarkable resilience of Kurdish women in the face of decades of systemic oppression. The protests ignited by Jîna Aminî's death have transcended ethnic boundaries, uniting Iranians from diverse backgrounds in their demand for freedom, equality, and justice. It is a momentous time for Iran—a time when the voices of the oppressed are rising, and the world must listen, but especially to the voices of Kurdish women who've consistently been on the front line of the battle lines for change and progress.
Women like Muradî are crucial to the continuation of the struggle, which is why they continue to be targeted by the regime. The international community's support and advocacy are essential to ending the discrimination and violence faced by Kurdish women and promoting a more inclusive and just future for all citizens in Iran, regardless of their background. There can be no justice as long as women like Muradî are arbitrarily arrested, tortured, terrorized, and disappeared with impunity.
Which is why now more than ever, the international community must stand with all the women in Iran, as they continue to valiantly defy a cruel order whose solution to their just demands is to make them vanish. But equal rights are not something you can erase through force, as they exist in the heart of every living woman with a desire to be free, like Werîşe Muradî. The Iranian regime and others like it who continue to oppress and murder the Kurds should know that for every Muradî they disappear and detain there are thousands more who have long broken the chains of silence and are willing to take on the role of leader, teacher, activist, and revolutionary; for these Kurdish women, the cost of silence is far greater than the price they pay at the hands of the extremist regimes.
"Forced disappearances are a sinister manifestation of unchecked power, a grave injustice that can only be remedied through accountability and truth."

— Sergio Vieira de Mello, Brazilian UN diplomat