Lukman Ahmad: On Painting the Magic of Kurdistan
Interviewed by Dr. Hawzhin Azeez
There are very few painters alive today who can match the explosively vivid use of colors as Lukman Ahmad.
The following is an exclusive KCS interview with the acclaimed Kurdish artist and painter Lukman Ahmad in anticipation of his solo exhibition entitled "The Other Side of My Journey" debuting on March 11th at the Cross Road Gallery in Virginia, USA. Where the artist will donate half the sales of his art to the communities affected by the recent earthquake in Kurdistan, Turkey, and Syria.
Please tell us a bit about your upbringing, childhood, and early life?
My name is Lukman Ahmad, a Kurdish artist from Rojava (Syria). I was born in 1972 in the Kurdish town of Dirbêsiyê, near the Turkish border. In 1981, we moved to live in the city of Hesîçe, where I attempted to study art at the university. Unfortunately, my father prevented me from studying art and so I was unable to join the university and continue my academic studies. In turn, I began teaching myself art and attempted to master it on my own.
Since my early childhood, I was fond of art, especially sculpture, and this passion continued through my adolescence. I then realized I wanted to be professional artist, and my first participation was with a group of Kurdish artists and exhibitions in 1998 – the Kurdish Art and Culture Festival, in Qamişlo, Rojava.
I was always motivated and driven throughout the course of my life towards art. When I was young, I was motivated to participate in artistic competitions for creative children. I participated three times and excelled, eventually winning the first prize in the province of Hasaka. I was honored by the school and the students and that feeling of accomplishment and passion for art was life changing. It was then that I realized I was capable of expressing myself artistically in a unique way which different from others. To this day, I am still amazed by art and its magical ability to create new worlds, which continues to inspire and motivate me towards creating.
Later in life, I moved to the United States in 2010 as a political refugee and I now live in Virginia, where I continue to paint with all the rich hues and expressionist colors of my Kurdishness.
But you are also more than an artist. You are a journalist with the Voice of America and digital art creator too. Tell us a bit more about that aspect of yourself?
Frankly, journalism was not my first passion, but I was fascinated with it when I was in Rojava due to the injustices and oppressive political situation there. When I settled in America, I applied to work at the Kurdish service of the Voice of America, and since 2014, I have been working there. I have endeavored hard to combine art with journalism because the former allows art to be presented and promoted far more easily.
As a result, I started broadcasting a weekly radio program called Voice and Color. I managed hundreds of interviews with Kurdish artists everywhere. Then I moved to television and prepared a program called "Seven Colors" bi-weekly, that shed light on Kurdish and international art. I imagine that journalism is a wonderful tool for promoting culture and art, and not only for publishing daily news.
As for my interest in digital art, it comes from my background as a graphic designer, when I started designing in Syria and Rojava. After settling in America, I searched for other advanced means of graphic design, and I began broadcasting live weekly episodes of digital drawing on my Facebook, the Voice of America during the Corona epidemic, and in the Kurdish language.
Through this I discovered that digital art is a different and powerful form of art in itself that has its own reality. I firmly believe that digital art will be the medium of the future. This is why I am very interested in this form of art and want to utilize it to represent the daily reality of our lives. I attempt to present and introduce digital art to the Kurds by depicting and designing pictures of renowned Kurdish personalities, or important events in Kurdistan.
How did you pursue being an artist as a Kurd? What role does your Kurdishness play in your art?
Naturally, my Kurdish identity is the main source of my artistic inspiration. The Kurdish issue is not only in its political dimension, which is how it has been traditionally introduced to the international community. It is a cultural issue in its own right. As Kurds we have a prodigious legacy in the civilizational and cultural history of humankind. Yet, currently due to a distorted political definition, we have been robbed of our contributions in the production of the culture of the region (the Middle East) and even the world.
Just consider the Kurdish language, which is spoken in some form by nearly 40+ million Kurds. This language is largely unknown globally, forgotten, and subject to extermination due to unjust and undemocratic politics. Imagine if this was shared with other languages and became a recognized official language in the diaspora countries Kurds reside in, or if Kurdish music and even Kurdish fashion – which have been banned and persecuted because of racist and violent politics against the Kurds – were to gain universal acceptance. In my art, I explicitly attempt to highlight the unjust ways in which Kurdish identity and cultural heritage have been persecuted; and to show the aesthetic and artistic side in our ancient and proud culture, while also attempting to introduce the culture to others through the beauty and expressive nature of art.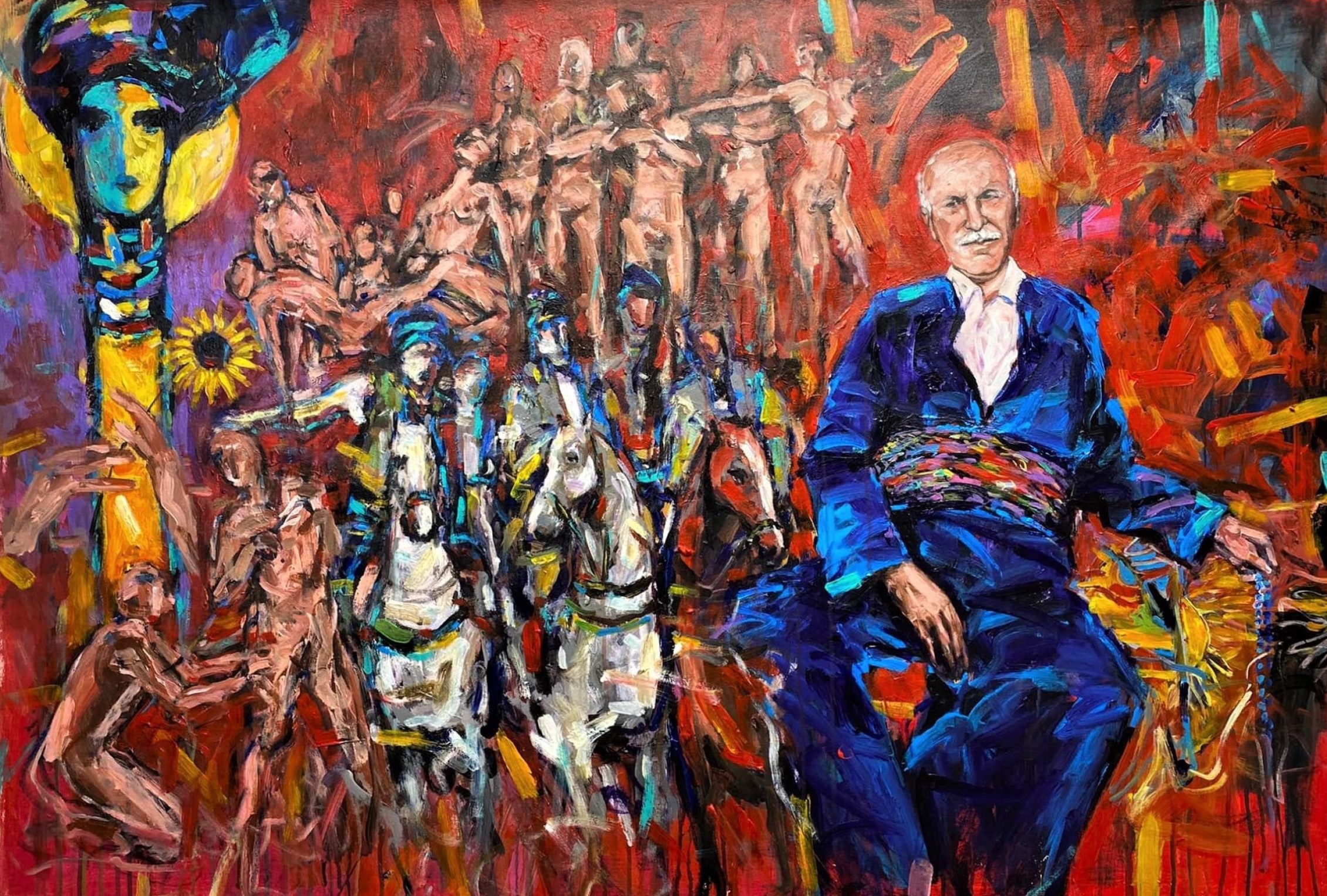 What barriers or challenges have you experienced in pursuing your artistic career, especially in Kurdistan?
In Kurdistan especially, and in Syria or the wider Middle East, the arts and artists suffer greatly from severe bans that often have religious and political intentions. The legal, emotional, and material suffering of artists is great and unexplored creativity – in places built on conservative attitudes and censorship – can become a heavy burden.
Tragically, we often suffer first from families such as my own, who harshly discouraged and actively prevented me from painting. I faced great adversities with my parents in particular, but in the end, I convinced them of the importance and power of art. Now they are very proud of my creations, but this was a struggle and a journey that may discourage many artists in the first place.
I cannot even imagine how much talent and art has been lost across Kurdistan due to cultural or traditional values that continue to see being an artist as an undeserving profession. I firmly believe that such ignorance is the main reason for the ongoing rejection and banning of many forms of art. Secondly, there was much struggle in my life as a result of my continued confrontations with the Ba'athists Party in Syria, which considered the Kurds as enemies and excluded us from their civil rights.
Finally, the lack of funding and communal support have dire effects. For instance, the lack of galleries and funding makes it near impossible for the artist to survive and make a living, which often becomes a major cause of frustration. The life of an artist in Kurdistan is incredibly difficult and the challenges seem almost unsurmountable. Yet, this speaks to the courage of the artists across Kurdistan who have refused to give up and continue to paint and produce art with all the colors of their intersecting pain, oppression, and suffering.
Your efforts to highlight the plight of the Kurds – both their suffering but also their immense resilience and courage – using expressionist art is remarkable and truly inspiring. What has been the response to this aspect of your artistic expression?
As I already mentioned, the Kurds are an ancient people with a great cultural heritage. But they are disregarded, marginalized, and at risk of cultural extinction because of the policies of the colonizing countries occupying Kurdistan. Of course, this is also due to the policy of the Kurds themselves, who remain captive to local politics and regional interests. Consequently, and heartbreakingly, the Kurds have failed to build a solid foundation for a people who can take pride in their identity. This is a moral obligation that every Kurdish artist and intellectual in particular must endeavor to overcome.
In my view, it is a very difficult task to prevail over the torrential cascade of taboos and prejudices imposed on the Kurds. This is why expressionist art is so important as a medium of representation. That is why I chose to be proudly and openly known as a Kurdish artist – who utilizes expressionist art – without fear or hiding under labels. For instance, many other artists use the "Syrian" or "Middle Eastern" mantle in order to continue to produce art. I believe that for Kurdish artists the initial characterization should be a clear identity as a Kurdish artist, and then the other markers of one's identity. We are Kurds first, something which they can never take away from us.
As a Kurdish woman one thing that stands out about your art for me is your beautiful and ethereal depiction of Kurdish women. Can you express what role Kurdish women play in your art?
Of course, Kurdish women are featured prominently in the largest parts of my artistic production, and I am still amazed by them on all accounts. Kurdish women are beautiful, charismatic, intelligent, brave, adventurous, and inspiring. She is the one who carried and continues to carry the Kurdish heritage on her shoulders and protected it from being lost forever. She is the courageous carrier of language and folklore, as well as her feminine aspirations.
In defending her land and dignity, as we saw in the epic Battle of Kobanê, Kurdish women defeated the terrorists of ISIS which was seen as undefeatable by the world powers. She, therefore, has an important personality, and as the French poet Louis Aragon says women are the future of men. I agree very much with him in this regard. Honestly, Kurdish women deserve more appreciation and love than I could ever provide, and my efforts at representing them through an expressionist lens is an attempt to show their profound splendor, power, strength, and grace.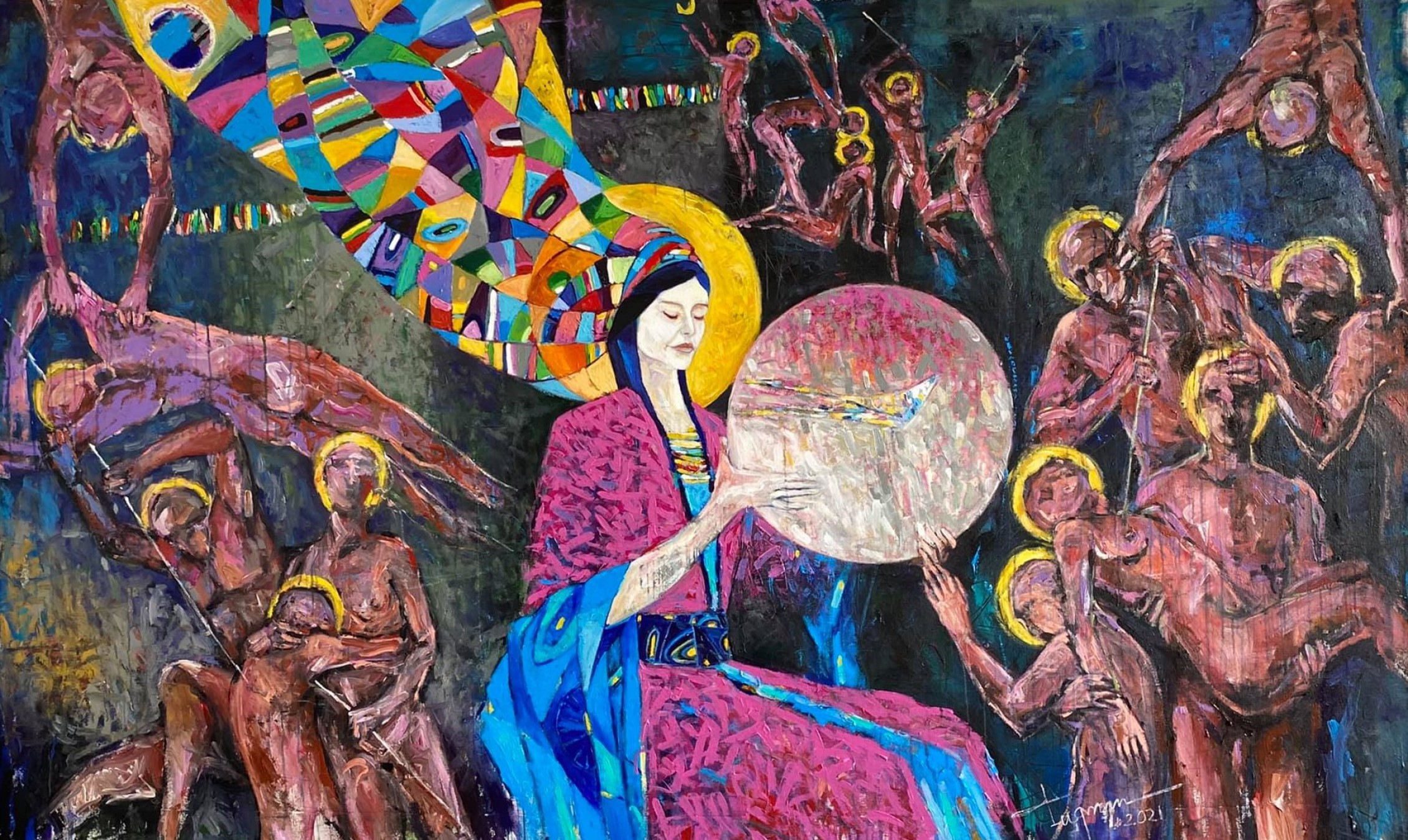 What are some challenges you have faced as a Kurdish artist living in the diaspora?
There are many challenges abroad, especially for us Kurds, because we do not have a homeland of our own. This in turn is painful and intensely traumatizing for every Kurd, like a hole in one's heart that is unfulfilled. We are often taught to learn about ourselves through an identity that is not even our own, which can be extremely alienating.
As a Kurdish artist, it ultimately means that you are at a crossroads. Either you are Kurdish by all standards, or you give up your identity and create works under the umbrella of your imposed identity and turn your back on your mother, your people, your heritage, and the soil holding a hundred generations of your ancestors' bones.
If you choose the righteous path of a Kurdish patriot, then you will suffer in marketing your artwork, and may be denied opportunities to display your talents in the Arab world, Turkey, or Iran. On the other hand, I would like to point out that we, as Kurdish artists, also suffer from the Kurds' ignorance of the arts and the lack of appreciation for art in Kurdish society at all levels, and this makes the artist's work even more difficult. It is one thing to be denied by your adversary, but it hurts far more when it is your own people who do not appreciate the blood, sweat, and tears that you project onto the canvas.
You have an upcoming solo exhibition coming up entitled "The Other Side of My Journey". Can you tell us a bit about the inspiration behind this exhibition?
Yes, my exhibition will be on March 11th at the Cross Road Gallery in Virginia, in which more than 50 works of my art will be presented, and half of all the sales will go to helping the survivors and those affected by the earthquake in Kurdistan, Turkey and Syria. There will also be an auction for two new paintings, and all the money raised in those cases will be donated to the earthquake victims as well.
The name of the exhibition is "The Other Side of My Journey", which is an effort to shed light on the place of my birth and also the things I left behind in Kurdistan – and how I process and digest this through imaginative expressionist representations, emotional communication of feelings of loss, and a sense of nostalgia.
It is an open conversation for the American recipient (or the other) to get to know more about my cultural foundation, and see a more colorful and expressive window on the Kurdistan that lives inside me and many Kurds. I want them to see our richness and not only our lives through a political lens as victims who have been betrayed by a world that will not create a space for us. I love when others come to see us as a community who are capable of creating so much beauty, art, music, and poetry. Our creativity can be our greatest strength as it comes from a sense of longing and a narrative where we are creating the world we want to live in, a world that truly accepts us, with our art.
Kurdish artists face a range of challenges in the West and the diaspora. What is your message to young Kurdish artists struggling through such a difficult and unfavorable terrain? What advice would you give them?
I cannot give advice, but I can share with them my experience here in America, which is not to abandon your Kurdish cultural identity, which is what enriches us as wherever we are. Our Kurdishness should be seen as a gift, not a burden, and what distinguishes us in terms of exceptionality and distinctiveness. As a culture we have an elaborate expressionist tendency, because the artistic and cultural structure on which we grew up in is so profoundly rich and charming, while also being full of fantasy, folklore, and tragedy. This is how others will respect you, when you in turn present original art that is not similar to any other experience. The Kurdish saga of survival gives us a unique window into what it means to be alive, embrace that. Then grab a paintbrush and let all your pain, joy, trauma, and passion pour out all over the canvas. In doing so, every stroke of color can be a reminder that we Kurds are still here.
You can follow Lukman Ahmad's art at his → Website, Facebook, and Twitter pages